New Pieces
View and buy from my latest contemporary jewellery pieces. Updated regularly - Sue x.
View all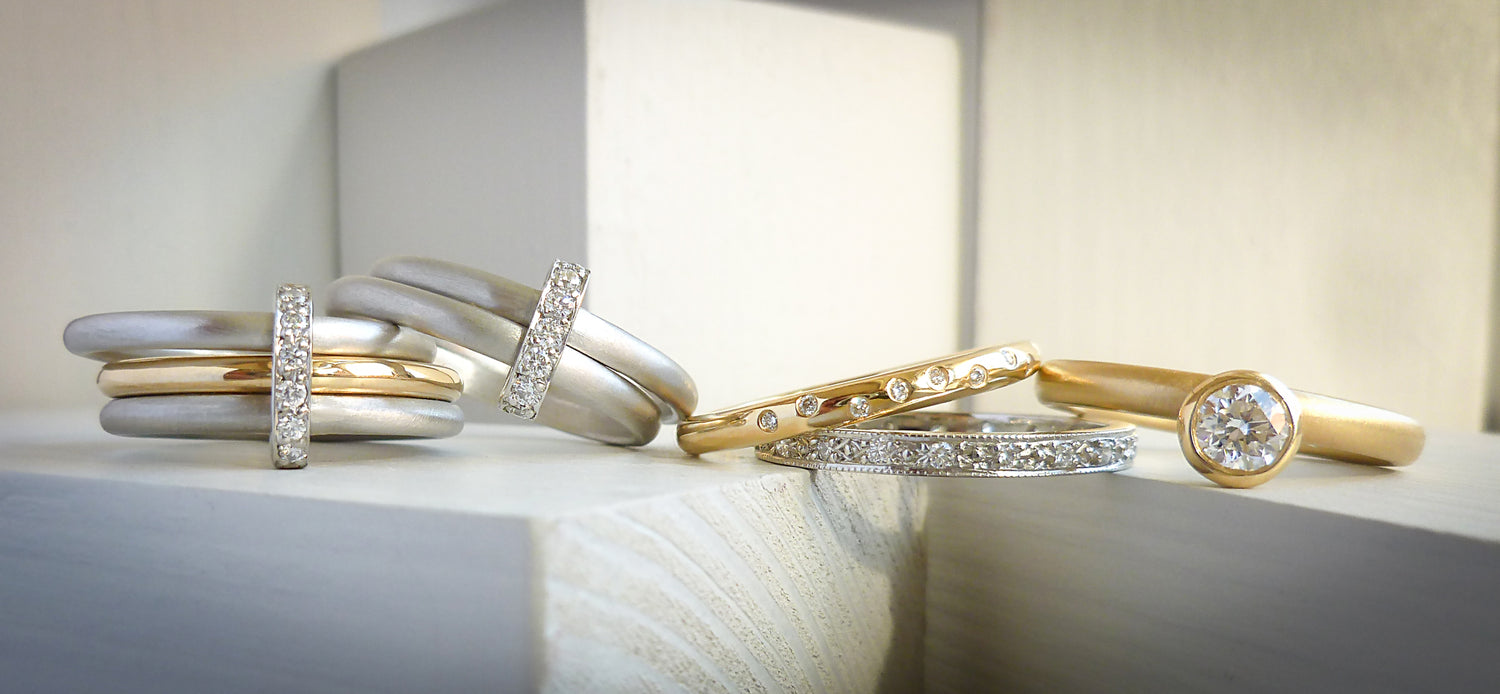 Current Collections
View my full range of collections. Each piece lovingly handmade in my Herefordshire studio - Sue x.
View collections
Recent Feedback
Dear Sue,
I love my rings and pretty much wear them all the time, which is exactly what I wanted. The earrings are perfect too and, again, getting much more wear than they did in their former incarnation. With many thanks and warm wishes,
Dear Sue,
My parcel has arrived in the post today. 😃 Thank you very much, I love them. I am really pleased with the quality & their appearance. So comforting to know that they are part of my history. Thank you again. ☺️☺️☺️ Best wishes,
Hi Sue,
The ring has arrived safely and is perfect! Many thanks again for making it! Cheers,
Hi Sue,
I just got my special delivery this morning. I am so delighted with my ring! My engagement ring was looking very tired and you have brought it back to life while retaining the feel of the original ring. The size and fit is absolutely perfect and the ring sits really well with my eternity ring. Thank you so much,
Hi Sue,
Just to let you know that my rings arrived safely on Monday.
Thank you so very much, they look amazing and I was able to wear them again when I went to the theatre last night. They mean so much to me. Best wishes,
Hi Sue,
My beautiful ring arrived in Belfast as planned on Saturday morning. It fits perfectly and I am delighted. It sparkles. It is amazing to see how your skills and vision have produced something so unique from the ugly ducking of rings you were given to work with. Thank you again and hope there will be further remodelling opportunities in the future. Best wishes,
Hi Sue,
They arrived about an hour ago and I can't stop looking at my hand. They're perfect just what I wanted. I can't thank you enough. We both think you have a wonderful talent and we are very grateful that we have benefited from it. I know my mum would have loved them too. She was very into her jewelry and I can now look at my hand and remember her and all the joy she took from wearing the earrings. A little bit of her will now always be with me. Thanks again, best wishes,
Hi Sue,
Just to let you know that my ring was delivered safely and I absolutely love it! thank you so much. Kind regards,
Hi Sue,
I have received my rings and have been wearing them since the minute they arrived. I am very happy with the end result, stunning, and the way they fit together and can be worn in lots of different ways. Thank you so much for creating such beautiful rings which I can now wear rather than having them hidden away.
Hi Sue,
I just wanted to let you know the ring had arrived safely and I love it. I didn't think it would be so sparkly. Looking forward to wearing it on my birthday. Thanks again best wishes,
Hi Sue,
Thank you so much for making the ring, it is beautiful. My mum and dad would have loved it. Thank you again,
Hi Sue,
It has arrived and it's beautiful. Glynis is over the moon. Many thanks.